Moderator

Registered: 2018-02-05

Posts: 1,033
30-day Ramadan fast begins today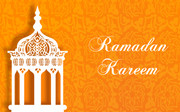 President Muhammadu Buhari last night sent his greetings to Muslims as the 30-day Ramadan fast begins today.
Sultan of Sokoto Muhammad Sa'ad Abubakar III last night declared today as the first day of Ramadan, 1439 AH.
Making the announcement in his palace in Sokoto, the Sultan said the commencement of the fast followed reports of sighting of the moon across various states of the federation which marked the end of the month of Shaaban 1439 AH.
The Ramadan moon, according to the religious leader was sighted in Gombe, Sokoto, Zamfara, Bauchi, Port Harcourt, Maiduguri, Minna and Dutse.
"In accordance with the Islamic injunctions, we announce today Wednesday 1439A.H which is equivalent to May 16, 2018 has marked the end of the month of Shaaban 1439A.H. which followed reliable reports duly verified and certified by states and national moon sighting committees. Consequent upon which tomorrow Thursday May 17, 2018 is first of Ramadan'.''
In his message to the nation on the beginning of the Ramadan, the President said fasting is not just merely meant to stay hungry or thirsty, but an opportunity to strive for inner purification and self-accountability.
The President, in a statement by his spokesman Garba Shehu, said "It is meant to inculcate righteousness and discipline,"
He enjoined fasting Muslims to increase their love for humanity, acts of charity, kindness, generosity and gratitude.
He called on Muslims and all Nigerians to always remember men and women who are less fortunate than themselves and to help the government in confronting the challenges facing the nation.
SOURCE - http://www.nigerianeye.com/2018/05/30-d … today.html
Moderator

Registered: 2018-02-16

Posts: 1,997
Re: 30-day Ramadan fast begins today
Ramadan Kareem to all our Muslim brothers and sisters.
Moderator

From: Nigeria

Registered: 2018-02-19

Posts: 1,815
Re: 30-day Ramadan fast begins today
Asalamaleykun to all my muslim people.
---
You just have to be real...