Moderator

From: Nigeria

Registered: 2018-02-19

Posts: 1,815
Church Members claim to see Jesus Christ in ICE BLOCK !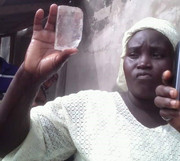 Jesus Christ in a stone...or is it a block of ice? lol.... A man posted the photos and wrote:
"Jesus is real. He show himself in a diamond stone through this woman in a street called Ajia, Iyana Church, Ibadan."
More photos below...
---
You just have to be real...