Member

Registered: 2018-06-01

Posts: 190
Tonto Dikeh discloses how her ex-husband, Churchill squatted in her
Tonto Dikeh discloses how her ex-husband, Churchill squatted in her house after their wedding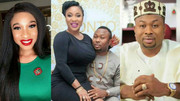 Veteran Nollywood actress Tonto Dikeh has come out to divulge how she housed her ex-husband, Churchill after their wedding.
The actress who recently celebrated her birthday in a big way and whose reality show will soon be aired on Linda Ikeji TV, has already started making some shocking revelation in the show.
In an episode of the reality show, Tonto Dikeh alleged that her ex-husband Oladunni Olakunle Churchill, who only weeks ago gave out millions of Naira to some selected members of the Nigerian National female football team among several A list celebrities who are ambassadors of his Foundation), squatted with her after their marriage.
"When i got married, we couldn't afford a house. We stayed in my house in Lagos. Even when i traveled to America, he remained in my house."
Recall that in a previous interview, Tonto Dikeh claimed that her husband, Oladunni Churchill was married to someone else all through the time they were married.
The beautiful actress and mother of one made this known while granting an interview with the Saturday Sun where she also talked about her career.
When asked if she still interacts with her husband and allow him to play a major role in the life of their son, Tonto Dikeh revealed that they just ended a child custody case in court which she wouldn't like to talk about.
"Recently, we just ended a court case which I did not publicise because I respect my son so much, anything that concerns my son I try as much as possible to keep it on the wraps.
We just finished a custody battle case and a child support case.
"If you want to talk about me and my ex-husband that's different but I will not even glorify that because he's eating off my energy and my stardom and I don't want that anymore. I don't even think I was ever married because he was married to someone else while I was married to him,"
she said.