Member

Registered: 2018-06-01

Posts: 190
Genevieve Nnaji ,Has actress gotten a new house? [Photo]
Genevieve Nnaji might have joined the growing list of celebrities buying beautiful houses.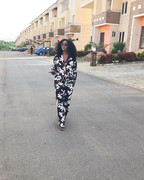 Yes guys, today on your favourite celebrities buying new houses, looks like we have a new entrant in the game in the person of  Genevieve Nnaji who might have gotten a new house.
The beautiful actress took to her Instagram page on Monday, July 9, 2018, where she posted a photo herself posing in front of a beautiful house with a very cryptic caption which gives us the idea that she just might have bought a new house.
It didn't take long before fans began to flood her comment section to congratulate her on the property. Unlike a number of celebrities who take to social media to share with fans when they buy a new house, maybe Genevieve Nnaji doesn't want to make a huge fuzz about it.
source: https://www.pulse.ng/entertainment/cele … 97774.html