Member

Registered: 2018-08-30

Posts: 40
Mercedes delivers 1.5 vehicles in 8 months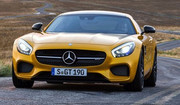 Mercedes-Benz delivered 1,512,268 vehicles to customers worldwide in the first eight months of this year, thus setting a new record (+1.1%). Never before in the company's history were sales of 1.5 million vehicles achieved earlier in the year.
Mercedes-Benz sold 155,918 (-8.5%) vehicles worldwide in August, the 30th consecutive month with global sales of more than 150,000 units due to the ongoing strong demand for cars with the three-pointed star. As expected, however, there was an impact on unit sales in August from challenges relating to vehicle availability, including model changes and delays in vehicle certification in some markets.
Nevertheless, Mercedes-Benz defended in the first eight months of the year its position as the best-selling premium brand worldwide.
"I am delighted that Mercedes-Benz reached the mark of 1.5 million cars delivered earlier than ever in the year. As a strong team, we will continue to work on meeting the ongoing high demand for our vehicles, also again in terms of delivery," stated Britta Seeger, member of the Board of Management of Daimler AG responsible for Mercedes-Benz Cars Marketing and Sales.
"And with the EQC, we have presented the first fully-electric SUV of our EQ product and technology brand to the world public in Stockholm. We will set additional markers and impulses in the market with the EQC," Seeger continued.
Source: https://www.vanguardngr.com/2018/09/mer … -8-months/
Moderator

Registered: 2018-02-16

Posts: 1,997
Re: Mercedes delivers 1.5 vehicles in 8 months