Moderator

Registered: 2018-02-16

Posts: 1,997
APC primary: How Ambode will defeat Sanwo-Olu – Mandate Group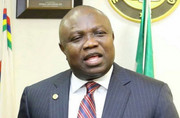 The Akinwunmi Ambode Mandate Support Group (AMSG), on Saturday said the incumbent Lagos State governor was capable of winning the governorship primary of the All Progressives Congress (APC) in the state because he had supporters across the state.
The Director-General of AMSG, Mr Hakeem Sulaimon, at a news conference in Ikeja on Saturday, said Ambode was not worried about endorsement of Mr. Babajide Sanwo-Olu ahead of the primary by some groups.
He said supporters of Ambode held meetings across all 20 Local Governments and 37 Local Council Development Areas on Friday and the support for the governor was overwhelming.
"There is huge affirmation and support for Ambode across the state, as stakeholders expressed readiness to work for his emergence as the governorship candidate of the APC and the governor of Lagos for a second term," NAN quoted him as saying.
Sulaimon said while AMSG was not against endorsement for Sanwo-Olu as it was part of democracy, some of the endorsement information being given out were incorrect.
He said that the Chairman of Conference 57, Mrs Omolola Essien, was at its meeting on Friday to say that chairmen of the 57 councils in Lagos state would support Ambode's second term aspiration.
"We also had 200 ward chairmen coming here to endorse Ambode.
What constitutes the structure of the party is the ward chairmen, LGA chairmen and councillors.
"237 councillors were here at our meeting and they have endorsed Ambode.
"They said they have realised that it was Ambode that they should support," he said.
Sulaimon added that the Ndigbos and other Igbo support groups in the party were garnering support for Ambode.
"The Community Development Associations (CDAs) and Community Development Committees (CDCs), have also thrown their weight behind the governor.
"The CDAs and CDCs are the biggest grassroots groups, we have 3,900 CDAs in Lagos state and they have openly endorsed Ambode.
"Their representatives were at our meeting to again affirm their support for Ambode."
"We are supposed to have a direct primary and this means that all wards will participate," he said.
Source: http://dailypost.ng/2018/09/29/apc-prim … ate-group/
Member

Registered: 2018-02-17

Posts: 593
Re: APC primary: How Ambode will defeat Sanwo-Olu – Mandate Group
This is looking like a tall order for Ambode. All eyes on Lagos APC Primary
Member

Registered: 2018-07-19

Posts: 139
Re: APC primary: How Ambode will defeat Sanwo-Olu – Mandate Group
Real reason Lagos APC governorship primary was postponed until Monday
The All Progressives Congress (APC) spokesperson in Lagos, Joe Igbokwe, has said the governorship primaries was postponed until Monday because people have to go to church on Sunday.
"People have to be in church on Sunday, so we have rescheduled until Monday unfailingly.
"There are other issues around logistics, but everything would be done by Monday," Igbokwe told Premium Times.
The APC on Saturday postponed the governorship primaries for Lagos and Imo States.
The announcement comes amid stiff contest for the ruling party's governor ticket between incumbent Governor, Akinwunmi Ambode and Jide Sanwo-Olu.
Sanwo-Olu reportedly received the endorsement of 36 out of the state's 40 lawmakers on Sunday afternoon, while another governorship aspirant and challenger, Babatunde Hamzat, stepped down for him.
Source: http://dailypost.ng/2018/09/30/real-rea … ed-monday/